Advertising on ContestCanada.net
"We have had amazing response from our ads on your website, we are thrilled!"
– Carrie C from a national furniture and electronics chain.
"You guys have great reach!"
– Stephen B from FeelGreatHealth.com
"Out of the ten sites that I've tried, so far yours is performing best!"
– J G from a jewelry boutique.
"I've been very happy with the hits I've been getting from you! In fact, they're higher than any other sites I'm currently using to promote my contest."
– Mike from GearHungry.com
If you're promoting a contest, we'd love to help!
We're not the fanciest site in the country, but we have a very simple thing that works in our favour: we can generate more traffic for you than any other Canadian contest site. You want visitors, and we can send them your way.
Listed below are our advertising methods. If you have any questions or want to do something that doesn't quite fit with one of these methods, please feel free to contact us. We'll get back to you ASAP, and we'd be happy to work with you to find a solution.
Featured Posts
A featured post looks very similar to other contests that we post on our site, but it stays at the top of our home page (guaranteed to be in the top 3 slots) to ensure that every visitor sees it. Other contests scroll to the bottom of the page as new contests are added. Our current rates:
| | |
| --- | --- |
| Number of Days | Cost |
| 1 | $35 |
| 2 | $65 |
| 3 | $90 |
It's a very popular, inexpensive way of advertising, and will typically generate 500 clicks in a 24-hour period. Some contests get over 1000 clicks. Your contest is also included in our daily email, which has a distribution of over 3,000 people. To request a Featured Post, please use our "Suggest a Contest" form or contact us.
Banner Advertising
We sell banner advertising in blocks of 25,000 impressions. Our current rates are:
468 x 60 : 25,000 impressions : $40
120 x 600 : 25,000 impressions : $70
The 120×600 is near the top-right corner of every page. The 468×60 units are in between contest posts on any page that shows a list of posts (like the home page, searches, or any of the category lists), and also on the page that is displayed whenever a visitor views a single contest.
To arrange banner advertising, please contact us.
Sample Advertising
In the screen shot below, there are two Featured Posts ("Win 1 of 8 La Senza gift cards" and "Win $500 store credit for Orro Mosaic"). Regular posts follow the Featured Posts and don't have the pink background.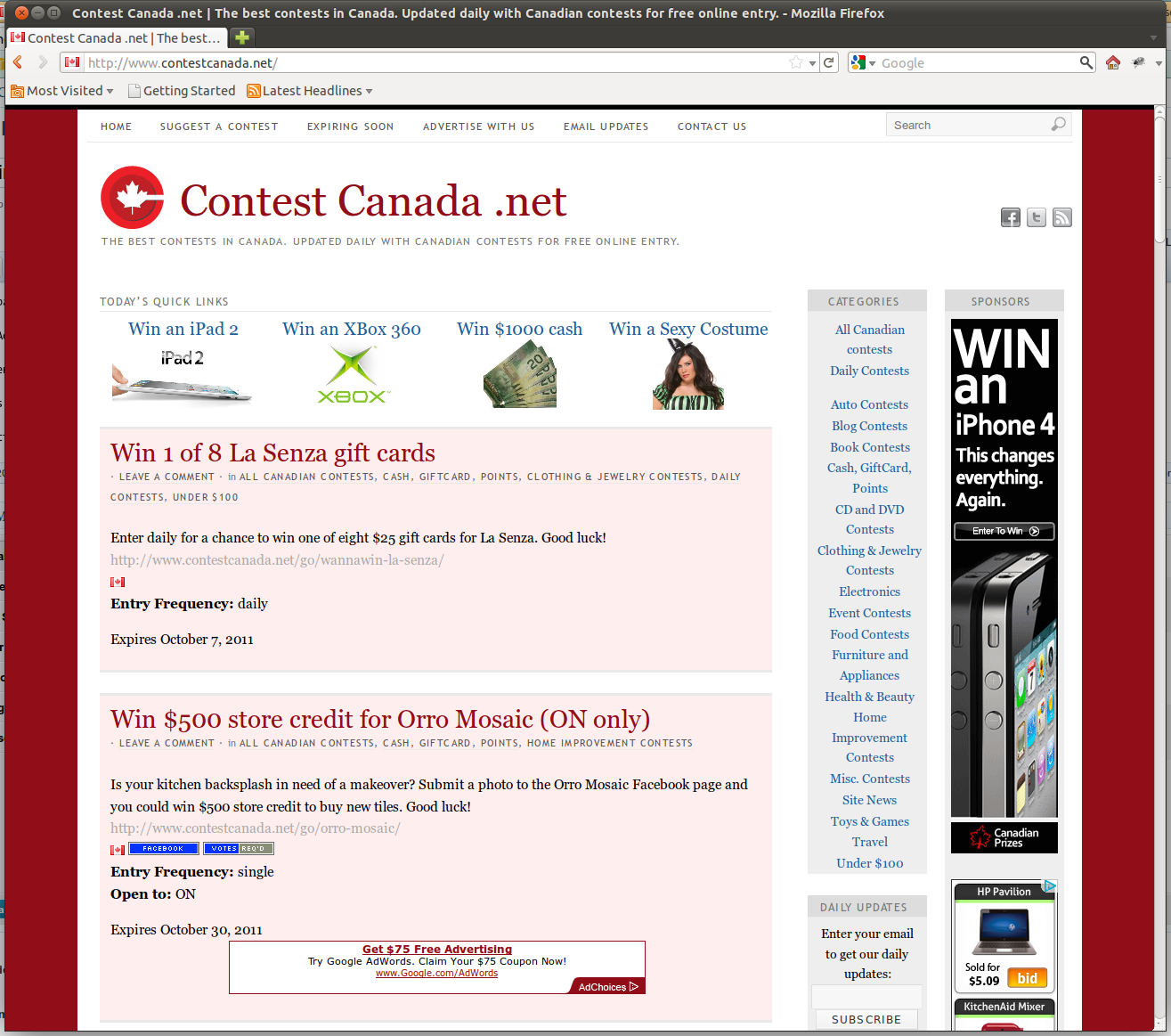 Daily Updates

Want updates of new contests? Join the thousands of members who get our daily email!

&nbsp

Archives